Vacation without Your Pit Bull. Who Can You Entrust Your Friend
It's summer time, time to go for vacation with your family including your dog. But everything can happen. Sometimes you have to leave without your pet, charging some reliable person with care for it. How to choose such person?
Variant No.1. A dog breeder or your good friend, a dog owner.
A very good variant. These people know both your dog and you. The breeders is aware of the breed, knows its features, it is your relative in a way. We recommend you show the dog the place it will be staying in beforehand. Visit your friend or a dog breeder once or twice. Feed your dog, when you're there. Don't forget to bring the usual dry feed or a menu list with the dog as well as its toys, mat, if you have one. Then the muzzle, leash and the collar. It's a must, the breed is just like that. It requires certain precautions. And keep calm, of coarse. The dog can feel your mood, don't be upset beforehand.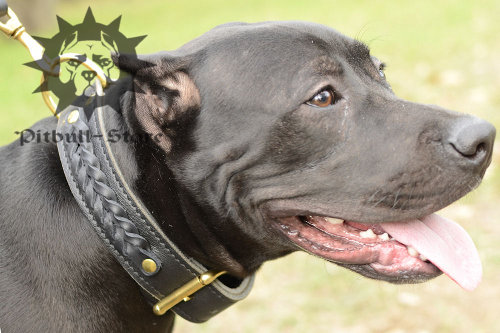 Leather collar for pit bull 
Variant No. 2. Dog hotel.
This variant requires good preparation. Use feedback from your fellow dog owners to choose a good dog hotel. Check the ambient yourself. The rooms, where the dogs are staying in, have to be safe. The walking spot must exclude meeting other dogs. Find out, if veterinary service is available. Yes, and be ready that not all hotels are willing to lodge pit bulls. To visit a dog hotel, make all the necessary vaccination. Choose time to write down your dog's diet and all factors your dog can be allergic of. Bring your dog to this hotel beforehand. And require to conclude an agreement! The expenses are not that critical, instead, you can be calm for your pet. Bring the dog's food, mat and toys. Don't bring the cage. Bring ammunition, and safe one. If your favourite leash unhooks from time to time, it is not the best option. You better buy a new one, with a good buckle.

Great pit bull leashes can be found in our on-line shop. Check it out!
Variant No. 3. Vet clinic support.
Also a variant. The vet clinic employees usually take their responsibilities seriously. And make up agreements. But there is risk your dog can catch some disease from the clinic patients. Plus it will meet less people than in a dog hotel.

Variant No. 4. Engage your relatives.
A bad variant. The dog stays alone all the time. It will be missing you and feel lonely, and boredom awakes unpleasant character features of pit bulls.They can earn, whimper, destroy your furniture and other things, scratch your doors. And have mercy with your relatives: walking even a very smart bull terrier can turn into a real disaster.

---