Dog Bite Sleeves
Dog Bite Protection Sleeves for Amstaff, Bull Terrier, Pitbull & Stafford Training.
Protection sleeves are intended for any task and any kind of professional dog training. Our online pet shop offers you ISO certified and approved by professional dog trainers and kennel clubs bite sleeves for such strong dogs training as Amstaff, Bull Terrier, Stafford and similar dog breeds. We offer different types of dog bite sleeves: arm sleeves, leg sleeves, short puppy bite builders. You can also order a protection cover for additional safety while training.
If you don't know how to choose the right dog bite sleeve for your Staffy, Pitbull, Amstaff see information below or contact us for details.
We have special discounts for dog trainers and dog schools and we are open for partnership offers.

more info....
NEW ARRIVALS - Dog Bite Sleeves
Dog bite sleeve is an essential dog equipment for dog training and dog sports. Moreover, you can train your Staffy or Pitbull from its early childhood using our puppy sleeves from strong and safe French linen and jute. Our Pitbull shop also offers intermediate dog sleeves for bite suits, bite sleeves for military dog training, bite protection sleeves, trial bite sleeves, bite builders and bite sleeve covers. All bite sleeves are developed in accordance with Pitbull breed weight and strength. All our bite sleeves, jute or French linen, will serve you for years professionally. We do not have our shops offline.
See How Our Revolutionary X-shaped Sleeve Works
We want to explain the differences between dog bite sleeves so you can choose the best one that fits your training purposes and your dog.
Sergei Beresowski Trainer Uses Our Protection Bite Sleeve with Cover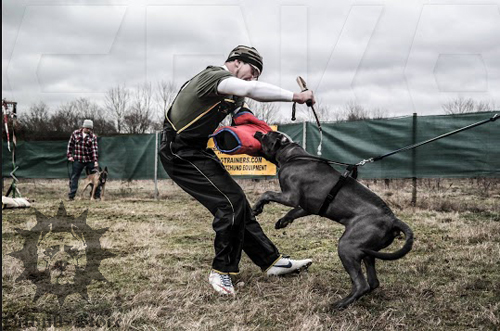 The first type dog bite sleeve protects the inner elbow of the helper badly because of lack of leather. Moreover the bite bar is made of cheap fake leather covering a piece of foam. Such a bite bar is very frail. If you use this type of dog bite sleeve on an adult Staffy or Pitbull with good grips its life time will not long.
Look at Our Bite Sleeve at a Training Session
Some dog bite sleeves for SBT and Pitbull do not protect the helper's hand because there are no covers over the end of the bite sleeve. Those helpers who have just begun to train Staffies or Pitbulls should use this type of dog bite sleeves with caution. Dog can really bite the hand.
Bandog Is Trained with Our Bite Sleeve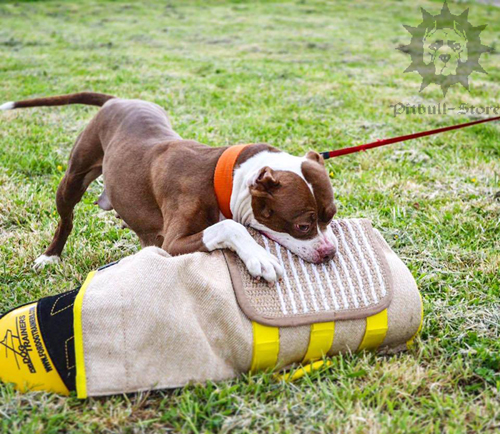 Another type of dog bite sleeves with strong protective end shows good protective qualities. It must be sewn in. Round shape of the barrel indicates of a high quality material the sleeve is made of. It's a good plastic covered with leather.
Check Out Our Protection Sleeve in Work
Oblong shape of the barrel indicates of the very thin plastic. When your Staffy, Amstaff or Pitbull bites, this type of dog bite sleeves is crimping down and pinching your arm.
The bite bar of a good quality dog bite sleeve should be sewn into the sleeve, material of the barrel should be a heavy plastic covered with tough thick leather, jute or French linen.
There are also barrel sleeves made without bite bars. If you use this type it forces your Staffy to open its mouse and consequently to have a better grip.

You will be really surprised and pleased with the quality, durability of our bite sleeves and their view. So you are welcome to choose any jute or French linen bite sleeve for your Pitbull or Stafford. If you need any advice or consultation about the products or their usage just contact us and we`ll answer all your questions with a great pleasure!
Some Reviews from Our Customers:

1. Pitbull puppy sleeve with shoulder protection PS14
I recieved my order today and I am very happy with your service and I have given a good recomendation to all my associates. I would like too thank you and the company for your help and I look forward too doing more business with yourselfs in the future.

From: Emma, Ireland

2. Pitbull army bite sleeve PS23
Thank you for your fast sevice, got my New Army bite sleeve today well made and great value.
From: Richard, Australia

---