Pitbull Chain Leash UK, Best!
Chain leads are one of the most comfortable and durable dog outfits for walking and training your strong pet. All our chain leashes are made by Herm Sprenger, Germany and comfortable leather handles are developed and made by Fordogtrainers. You can choose chain leads of chromium plated steel or of stainless steel. Our Pitbull shop offers everything for your style and comfort while training or walking your Pitbull or Staffy.★ Everlasting quality ★ Fast shipping to the UK ★ Best for handling powerful dogs
If you have any questions, please, ask our customer support team via our e-mail info@pitbull-dog-breed-store.co.uk.

In order to make your shopping more pleasant we offer you 10% discount on the products from this page! The coupon code is 7788. Put it into the coupon field while placing your order.

more info....
Chain Coupler Herm Sprenger. Steel Dog Coupler Leash for Walking 2 Staffies. Chrome-Plated Lead Coupler Chain coupler is a great solution for walking 2 dogs !...
more info
Bull Terrier and Stafford Chain Leash with Comfortable Leather Padded Handle UK Chain leashes or chain leads for Pitbull, Staffordshire and Bull Terriers UK...
more info
Pitbull Dog Coupler Lead for Both Dogs Walking Our dog coupler lead allows you to walk two Pit Bulls or Staffies at once on the same leash , which is very...
more info
Our chain leashes will perfectly suit to any
chain collar
. Each one will
look stylish
at any occasion. You can also choose smart
Herm Sprenger collars
from our new collection.

Click the image to see the product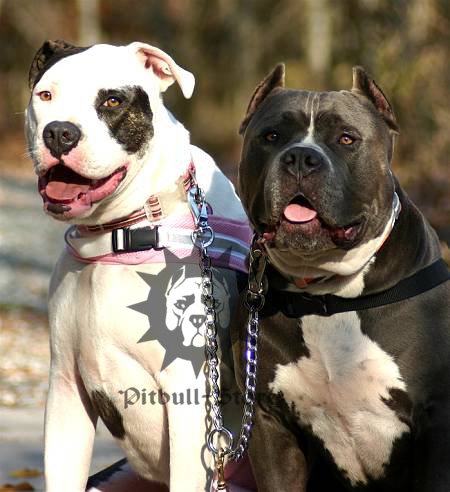 Double Dog Lead is Great Solution for Walking 2 Pitbulls
In our Pitbull shop, you will also find chain coupler leashes for walking 2 Pitbulls at once on the same chain leash that is very comfortable. The lead works best with dogs of similar height. Our chain coupler leash will help you to spare your time while walking two pets simultaneously and your Pitbulls will feel happy enjoying the company of each other.
Some Reviews about Chain Leads:

1. Chain leash with leather handle L102HS
I've receieved my order for chain leash & collars. They are of excellent quality. Thanks so much for your client-focused assistance in my order.

From: Manson from Hong-Kong

2. HS coupler chain
Hi Guy
After opening my parcel, I was delighted to have received every single item ordered. You have certainly not disappointed, I am absolutely pleased with your product quality and promise to market your stuff to all my local trainers and friends. You have certainly won a new customer for life.
Thank you kindly.

From: Yusuf, South Africa
---