Presa Canario
We are to present you our super strong Presa Canario harnesses. Our large sportive harnesses for molossian dogs like Pitbull, Staffy, Argentinisn dog and Canary dog are time-proof, reliable and don't restrict your four-legged guard's movements. Train and walk your Presa Canario with comfort dog equipment on!
If you have any questions concerning measurements, model or application of a large dog harness, collar, or other sportdog supplies, just contact us. All info you need to know about shipping to the UK is here. You should remember we will do our best to provide you with high quality dog equipment and best service, but if you are not satisfied with our products you can easily return or exchange them.
We have a special present for all Presa Canario owners! Use 7788 copun code for 10% discount! The offer is applied on all Pitbull shop products aside from bite suits and jackets.

more info....
Large Dog Harness for Presa Canario and Dogo Argentino for All Weather Conditions Looking for the right harness for large dog like Presa Canario or Argentinian...
more info
Model: H12##1047 Dog Sport Harness for Presa Canario
Large Dog Harness for Walking and Training with Your Presa Canario Dogs of large breeds like Presa Canario require reliable equipment to walk with or train...
more info
Model: H1###1047 Leather Attack Training Dog Harness
NEW ARRIVALS - Presa Canario
Model: H12##1047 Dog Sport Harness for Presa Canario
Model: H1###1047 Leather Attack Training Dog Harness
Our Presa Canario harnesses are produced of two kinds of materials:
genuine leather and nylon
. Both the materials have approved their durability in dog equipment. Leather will make your Presa Canario impressive and stylish. Such harnesses are
padded and extra strong
, but you should reduce contact with water to increase their service term. If you choose a nylon dog collar, you can train and walk your Dogo Canario in any weather. Nylon is a
water- and dirt-resistant
material. You can wash it many times and the item will
preserve its look and shape
.
Click the picture to see the product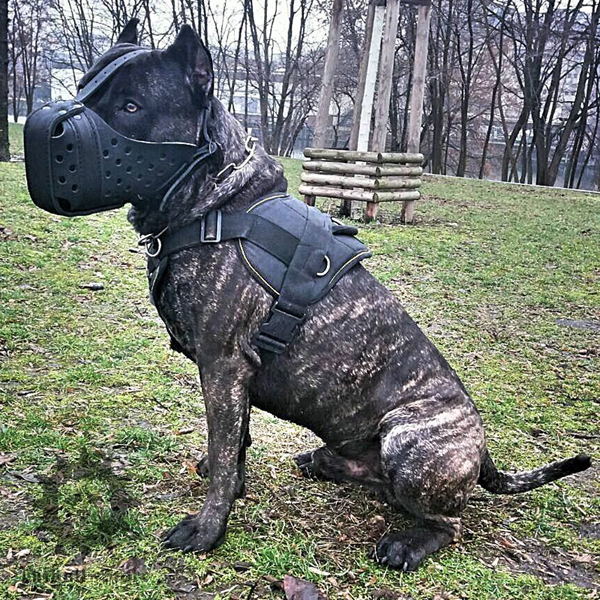 Customer's Dogo Canario in Our Harness & Muzzle


Presa Canario is a vigorous breed and your demands towards K9 supplies are clear. We equip our accessories with welded D-rings, durable buckles and other rust-proof fittings. We don't use glue. Our hardware is
set by hands using safe polished rivets.

See the Video Instruction How to Measure Your Presa Canario for a Harness
Find more dog equipment for Presa Canario at our Pitbull shop:
---