Caring of a Leather Dog Muzzle
How Can You Preserve a Leather Muzzle?
Getting Started
Firstly we recommend to treat a muzzle for dogs using appropriate process:
You should cover the new muzzle uniformly on the outer and the inner sides with castor or linseed oil using a brush or a cotton ball. For one muzzle you need 30-40 ml of oil depending on product size.
After oil covering of the whole surface of the muzzle wait for its fully absorbing for 15-20 minutes.
When oil is absorbed coat the whole product surface (outer and inner) with paraffin beforehand melted in a water bath (you can use a 4-6 in candle) and wait for its cooling-down on the product. Take necessary precautions while doing that.
Place the treated with oil and paraffin muzzle into a preheated to140-150°C oven on a pre-covered with foil baking tray for 2-3 minutes.
Time to time you should check the progress of melting and absorption of paraffin to prevent overheating the muzzle in the oven.
Remove heat-treated muzzle carefully from the oven, wait until it will partially cool down for 2-3 minutes, then remove excess oil and paraffin with gauze tampon or a cotton ball.
Wait for the complete cooling of the muzzle.

Perfectly Ventilated Muzzle doesn`t Tighten Dog's Jaws
Caring of the muzzle
Like any other leather product muzzle made for your pet requires proper care. We strongly recommend to clean the muzzle mechanically of dirt, dust, saliva, grass, seeds, etc. after each walk. Dirty muzzle is a source of infection!
When the muzzle is cleaned with a brush or washed in running water you should dry it with cloth.
We do not recommend to dry it in an open fire, on radiators, near heat sources. Intense exposure to heat can have bad affect on muzzle leather.
Keeping
Keep the muzzle in a warm dry place, placing it in a special bag or a bag made of natural fabrics (cotton, linen).
We hope that following our recommendations will significantly lengthen life of the purchased muzzle.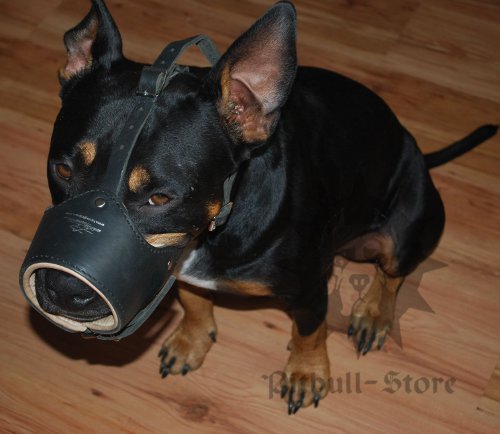 Leather Muzzle with Nappa Padded Open Nose Area for SBT
Attention!
Strongly not recommended:
Using edible vegetable oil for treatment.
Using automobile oils and lubricants.
Immersing the whole product into oil to impregnate.
Putting the leather product into a microwave oven for processing.
Taking hot, after heat treatment product with unprotected hands (special attention to the metal parts!)
Changing design or geometry of the muzzle by yourself.
Our Super Ventileted Leather Basket Muzzles fit perfectly to training, travelling, patrolling, guarding and visiting the vet. Ergonomic design worked out by our designers allows your dog to breathe and bark without any difficulties. Have safe walking with our Leather Muzzles for Dogs!
---