Fire Hose Bite Tugs
Extra Strong Fire Hose Dog Tugs for Pitbull & Stafford
Bite tugs in our online shop are intended for Pitbull, Amstaff, Bull Terrier, Staffy and similar dog breeds of any age. All tug toys will resist the hardest grip of the strongest dog and will serve you for many years.
If you are not sure concerning material, you can order dog bite tugs of jute, French linen or leather. Our customer support team will not let you get lost in wide range of models and sizes - contact us and we will choose the best variant for your dog. Our Pitbull training equipment is worth waiting - check the shipping details before ordering.
Pitbull shop gives you a chance to train your dog professionally and save today! 7788 coupon code is your lucky number to pay 10% less! The offer is note applied to bite suits and jackets.

more info....
NEW ARRIVALS - Dog Bite Tugs
Model: TE5221047 Dog Bite Tug with Handles
Model: TE68#1047 Training Set of Fire Hose Tugs (3 items) TE51, TE52, TE53
Model: TE54#1047 Fire Hose Bite Tug with 2 Handles
Our
dog tugs
are made of super strong and durable, but also safe and friendly to the dog`s teeth
fire hose
. Moreover, our dog training tugs have
International Quality Certificate
, are handcrafted, hand stitched, heavy stuffed with non-toxic stuffing and equipped with convenient solid nylon handles. So you can keep calm for your dog`s health during dog training and exercising.

Click the image to see the product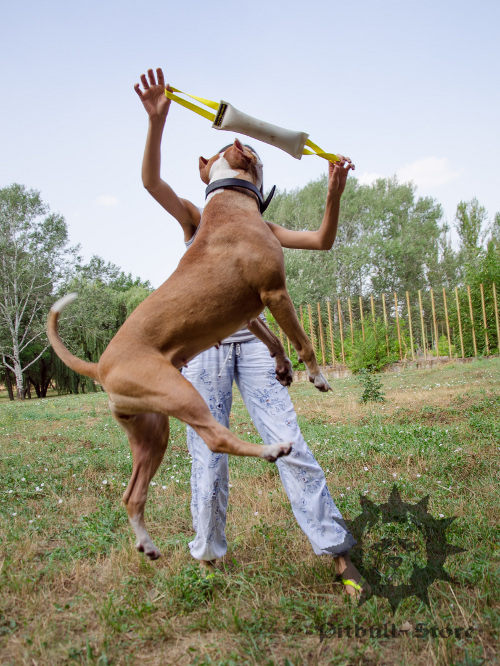 You will be pleased with a premium quality and multifunctionality of our dog tugs and be sure, your Staffy or Pitbull will always be glad to train and to play with our dog bite tugs!
See also our
Bite Work Items
for puppy and adult dog training and fun dog games.
Watch Our Collection of Bite Tugs
Some Reviews about Fire Hose Bite Tugs:


1. Fire hose dog bite tug with 2 handles

Great service and great products. I'll be back for more when needed.
Thanks,
From: Dan from California, USA

2. Fire hose bite tugs training set

Hi GUY,
I received my first consignment and its about time i am writing this to thank you and not complain. All the items were in perfect and great shape. Thanks mate. Pls advise me the consignment number for the second one. Also, i am ordering few more stuff next week possible or something else pls advise.
Many Thanks.
From: Benny, Australia

---