Dog Training Equipment
Our Pitbull and Staffordshire, Bull Terrier breeds online shop offers you dog equipment for professional training. Choose and order bite suits for dog trainers and helpers, agitation sticks and whips, dog dumbbells, whistles, clickers etc. Our pro K9 training supplies will help you to develop and improve your dog's skills and make Pitbull or Staffy training effective and successful.
We have been producing Pitbull training equipment for over 20 years. And we would be happy to find new partners among dog trainers in the UK.
You are free to choose the way of shipping and payment. If you need some consultation, don't wait - contact us.
All dog trainers get a present today - 10% discount on all the products except bite suits and jackets. Put 7788 coupon code into the coupon field while placing your order online.
more info....
NEW ARRIVALS - Dog Training Equipment
Model: PBS1#1047 Competition Level Protection Police Bite Suit
All our dog training tools have ISO certificate and made due to the requirements of professional dog trainers and kennel clubs. Our experts used only the best materials for dog training equipment producing, so all our dog outfits are absolutely safe for you and your dog's health! If you are a professional dog trainer or experienced dog breeder then you`ll certainly appreciate our top quality and timeproof dog gear!
See Our K9 Sport Equipment at DVG America National Championship 2015
Some Tips about Pitbull & Staffy Training
Despite their intimidating appearance, Pitbulls are exuberant, loving and loyal dogs. Although they are sometimes bred and trained to be aggressive fighting dogs, most Pitbulls are kind, gentle family pets. Your Pitbull can become a polite member of your household.
Click the image to see the product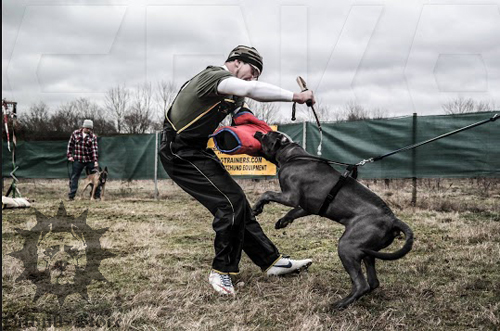 Agitation Whip for Pitbull Training - Sergei Beresowski, SBK9 Kennel
Things you'll need for Pitbull or Staffy home training are durable dog chew toys, dog treats, durable dog leash and reliable dog harness. Establish a routine for your pet from its early childhood and stick to it. It should be fed, walked, and put to bed at more or less the same time every day. Pitbulls and Staffords are quite clever, so they like to know what's coming next and can become nervous if their routine is unpredictable.
Pitbulls, Staffords and their relatives like to chew so they can spoil your furniture and other goods if they don't have their own durable dog toys. If you catch your Bully chewing something just give him/her a dog to cure your pet of this bad habit.
Teach your dog to walk on a leash from its puppyhood if you don`t want youd Pitbull or Staffy pulling on the leash when it`s adult and strong enough to hurt you or pull the leash out of your hand. If your dog pulls on its leash, stop walking, correct it, and don't start your walking until it stops pulling. Correct your dog for jumping up on people, growling, and play-biting, even when it's very young. And you need to get rid of these signs of dominant dog behavior. Feed your Pitbull from your hand, but teach it to take food gently. Pitbulls and Staffies like getting food as treats, but snatching food or biting your hand is another dominant behavior, that you should also get rid of before the dog is grown-up.
Socialize your Pitbull with other dogs when it is young. While most of these dogs are gentle with people, many of them tend to be aggressive toward other dogs. If your puppy acts like it's attacking another dog, correct it immediately by scolding it and pulling it away. Praise your Pitbull when it sees other dogs and doesn't go after them. Take some treats with you when you go out with Pitbull and treat it when it sees another dog to remind it to be nice.
Some Reviews from Our Customers:

1. Full protection police bite suit PBS2
I really would like to tell you how happy I am that your company has a Excellent costumer service and when there is a problem you take care of your Costumers. I received my bite suit and it fit Perfect. Thank you for everything and I will be calling you for more orders in the near future. Once again Thank you from a very satisfied costumer.

From: Derek, USA, Florida

2. Bamboo agitation stick, TEB
Guy:
Thank you for the order. I was getting a little nervous as I ordered the items for a friend. My friend is beginner helper and loved bamboo stick and puppy rag. Thank you for replying to my email and delivering very nice equipment at a reasonable cost. Have referred club members to your site and will be doing more business with you. Thank you once again. Regards
From: Mario, USA, California
---