Pitbull Muzzle UK Wire
Our Pitbull shop presents the variety of wire muzzles for Pitbulls and similar dog breeds. We produce wire muzzles for police work, K9, military work that are used by professional dog trainers. Basket muzzles for Pitbull and Staffy are universal muzzles for everyday use beginning from vet visiting and walking your strong dog in public up to the professional dog training. We have wide choise of sizes. Our specialists will select the best one to fit your dog according to its personal measurements. Contact us if you have any questions.
Visiting our Pitbull store for the first time? Get 10% discount on all our products except bite tugs and jackets. All you need is to put the coupon code 7788 into the coupon field. Place your order and save!

more info....
NEW ARRIVALS - Dog Muzzles
Model: M4###1047 (6-8) Wire Dog Muzzle
These classic wire-basket dog muzzles are available in thirty sizes. A proper-fitting wire muzzle for Stafford is extremely important for your dog safety, that is why, this wire dog muzzle has 4 adjustable straps and the nose area is padded with natural heavy felt.

Click the image to see the product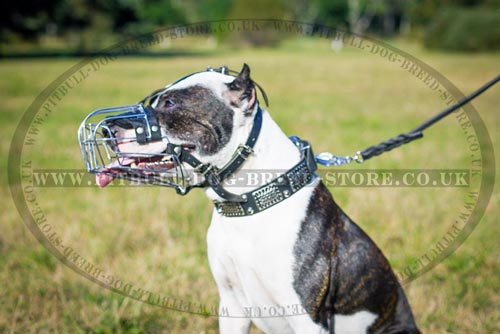 Reliable Pitbull Muzzle of Wire

Wire basket metal is designed to maintain its integrity for many years and to provide a maximum ventilation. Wire dog muzzles are acceptable for long-time use as they allow your Pit Bull Terrier to pant and drink water freely, however do not leave your pet unattended while wearing any wire muzzle. You can also choose the right wire muzzle model in accordance with a certain dog breed. Our company produces many different wire dog muzzles according with a dog breed and a snout form. If you have a mixed dog breed, nevertheless we are on the contact for such issues and always can give you links with products that will suit your unique dog perfectly or can make a wire muzzle for individual dog properties.
See Our Video Instruction How to Measure Your Pitbull for a Muzzle
The proper Pitbull muzzle has its medium length, is neither short nor long, but takes approximately one half the lengths of the head. It`s rounded and broad on the top, falls away abruptly below the dog`s eyes. It should be heavy enough to provide good attachment for the upper jaw teeth. Wire muzzle for Staffy is narrower than its back skull and cheeks, and wedges toward the pinball's nose, but the wedge is truncated, and the end of the muzzle is still blunt. Jaws are always well defined, not hidden by padding flesh. Strong and deep under jaw has a strong visible chin. The lips are close and even, with no looseness or thick padding.
Some Reviews from Our Customers:

1. Rubber covered wire muzzle M10
"Thank-you very much. The muzzle is a great improvement on the one we had. Much more room & he does not try to get it off. I will probably order a spare soon. I am really grateful to someone who went to such effort to look at the measurements and then try to match up with a muzzle rather than just stuffing one in a box and posting it off. Thanks from me & Mike"

From: Thamon, UK

2. Wire dog muzzle M9
Hi,
Muzzles arrived today! They are great! The wire one fits like a glove. Thanks a lot :-).

From: Vicki, New Zealand.

---