Dog Toys
Dog toys are essential pet products for Pitbull and Staffordshire games, edutainment and dog training. We offer you our best dog toys to make your dog teaching and training process more effective and entertaining. Moreover, our dog toys will perfectly suit for fun games with a puppy, young dog and an adult dog. Just take a durable dog toy when walk and train your Pitbull or Staffy and you can improve the dog grip and to build it correctly.
If you are not sure what dog ball size you need or how dog chew toys work, don't hesitate to contact us via e-mail, Skype or Facebook.
Take advantage of our rapid worldwide shipping!
Don't miss our super offer! Visitors of this page have an opportunity to save 10% on our products! Put the coupon code 7788 into the coupon field while placing your order online.
more info....
All our dog toys are made of natural Indian rubber - extra firm and solid material for a strong Pitbull and Staffy teeth. Dog balls are also quite soft, so they
won`t hurt your pet`s teeth
and won`t brake when Bully bites a pet dog toy. Be sure, these dog toy balls are
non-toxic and safe
for your dog`s health as they are made according to the international standards and approved by the best vets UK.
Pitbull Is Having Fun with Our Rubber Ball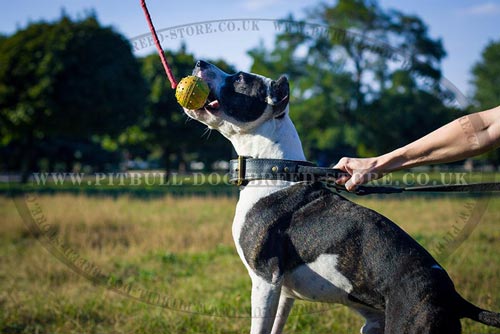 You can teach your strong pet such dog commands as
Find and Get`em
with the helping of our interactive dog toys. Besides, our chewing dog toys will give your pet
lots of fun and joy
. Balls for dogs help to take care of your dog's health brushing the teeth and
massaging the gums
.
Watch Amstaff Is Enjoying Games with Our Flying Disc
Some Reviews from Our Customers:

1. Solid rubber ball TT3:

Hi Guy, Dog ball is excellent, as is the service. Very many thanks to you. I will be placing another order for the dental ball shortly. For the time being I will not worry with the bite toys. Kind regards

From: Sarah, USA

2. Dental dog ball TT11


Hello
I have never seen such quality products
I am very pleased with the purchase
I recommend to all, not regret
thanks
thanks!
From: John Mitchell, UK

---