Leather Pitbull Collars
Dog collar on the neck of your Pitbull is like the wristwatch a person wears, showing the status, taste or character of the dog and its owner. Designer dog collars are the most popular canine accessories as they have luxury style, are also very comfortable and can serve your Pitbull or Staffy for a long time. Our special dog shop for Pitbulls and other similar dog breeds represents only the best dog collars, designed and made on a factory by our experts.
Do you suppose online shopping is tricky and dangerous? Nothing to worry about! Measure your dog and fill in all the fields while placing your order. Our Customer Happiness Team will send you the best fitting collar for your favorite. You can also return or exchange the product.
Visitors of this page get yummy offer from Pitbull Store! Use the discount code 7788 for 10% OFF on nearly all our products. The discount can't be used for bite suits and jackets.
more info....
NEW ARRIVALS - Leather Pitbull Collars
Model: C24##1047 Leather Padded Collar
Model: tube#1047 ID Tube for Dogs
Leather dog collar is an indispensable dog item for walking and training your Pitbull or Amstaff together with the right
Pitbull muzzle
,
harness
and
leash
. Pitbull feels closer to its owner when he it walks on the leash with leather dog collar.
Our Pitbull shop offers you various sport dog collars and training collars, fancy K9 collars for dog shows, walking collars, control collars for your strong and active dog. Also check out our new Artisan FDT collection of designer dog collars.

See Cute Pitbull in Our Dog Collar
Leather dog collars look very smart and have a unique design, because we do not have our shops offline. So when you order leather dog collar in our pet shop be sure, you get a unique dog collar for your Pitbull or Stafford! You Pitbull will have a gorgeous look on any show or walk with our leather Pitbull collar.

Click the image to see the product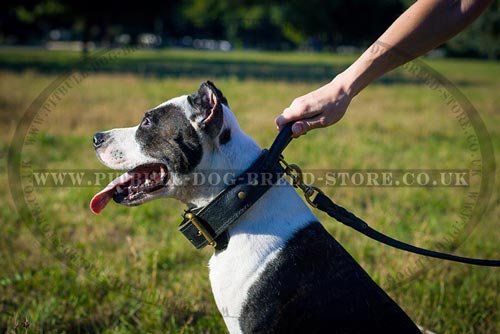 Bestseller Everlasting Agitation Dog Collar

All the dog collars in our dog shop are made of a selected genuine leather and decorated with rustproof nickel or brass studs, spikes, plates etc. You will be really surprised when you will see the real Pitbull collar on your dog and pleased with the timeproof quality of our leather dog collars and their view.
Give Your Pitbull or Stafford a maximum comfort with our leather dog collars! You should know that with our leather care balsam your new leather dog collar will serve you for especially long time.
Watch Pitbull with Elegant Collar on

Some Reviews from Our Customers
1. Designer dog collar painted C79 Wow what can I say its 19.15 pm here in the UK and there has just been a parcel force man at my door, delivering your collars, you are an absolute star, we cant get anything delivered that quick even if the seller is here in the UK let alone half way round the world!!!! My boy looks ace in his new collar and sends you big doggy thank you's!! We will be definitely recommending you guys. Once again thank you for everything
From: Ian, UK

---
2. Pitbull collar with brass spikes & plates C86 Hello, I would like to thank you. My order came in today and it was in mint condition and the quality of the product is beautifully hand crafted. Amazing color and tones. My Red nosed Pitbull looks amazing in this collar. I will be buying a harness and several other items in the very near future. I look forward to doing business with you and feel free to use my comments so other can see you are a reputable company. Thanks again.
From: Terry, Canada

---