Stafford Muzzles
Choose the best Stafford muzzle and let your dog feel the freedom even being muzzled!
We are sure that every Staffordshire Bull Terrier muzzle must be safe and comfortable for your beloved pet. That is why we produce our muzzles according to advice of dog trainers and vets.
We also take into account your dog's breed peculiarities and its personal measurements. Learn how to measure your Stafford for the correct muzzle size.
If you have some questions or need a piece of advice, please, contact us and we will help you to find an answer to any your question!
Rapid shipping to the UK + special discounts for loyal customers + attentive support team = K9 products supplier of your dream!
Visiting our store for the first time? Catch our Special Offer! Only today the visitors of this page get a 10% discount for all the dog accessories aside from bite sleeves and bite suits.7788 is a coupon code. Don't waste any second while the discount coupon is in use!
more info....
NEW ARRIVALS - Stafford Muzzles
View All
Dog muzzle is an indispensable dog accessory for walking, training, dog shows and rings, vet visiting, travelling
and other activities of such a strong dog breed as Staffordshire Bull Terrier and similar dog breeds. Moreover, in some countries it`s forbidden to walk a large dog without a dog muzzle and a leash due to the law. Otherwise, a dog handler should pay the fine off for violation of the law.
See Our Video Instruction How to Measure Your Staffy or Bull Terrier for a Muzzle
Not least important is choosing the "right" Staffordshire Bull Terrier muzzle according to your needs and purposes. There is a great plenty of various Stafford muzzles but not each one will be suitable, comfortable and safe for your Staffie. So, if you going for a daily walk with your pet, or visit a vet, or for a trip, or to the country and your pet is going to be with a dog muzzle on for a long time, then you need Staffordshire Bull Terrier wire muzzle. Every our wire basket dog muzzle allows your Stafford or Bull Terrier to drink, bark and pant that make this product indispensable item for walking in public and visiting veterinarian. Socialise your Staffy or Bull Terrier and be at ease about it with our K9 equipment!

Wire muzzles for winter walking are covered with a special rubber hardware to avoid a dog freezing to the wire. Don`t forget that basket muzzles aren`t suitable for Stafford training cause a dog can hurt its muzzle of a wire!
And if you`re looking for best muzzle for Staffordshire Bull Terrier training, than leather dog muzzle is the right choice for this purpose. Leather is the most pleasant material for dogs. It`s hypoallergenic, holds the shape, light-weighted, not overheated or overfrozen.

Click the picture to see the product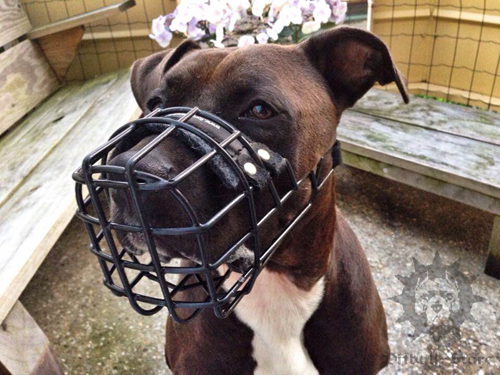 Rubberised Wire Dog Muzzle for Winter Walks

Where can you find such a top class Staffie muzzles? Welcome to our pet supermarket! Here you can choose the right Staffordhire Bull Terrier muzzle UK and get all your questions answered.

You both, your pet and you, will be pleased with a top quality, durability and comfort of our Staffordshire Bull Terrier muzzles!

The leather dog muzzle can be in use for all life of your Staffy and even of its puppies if it is not in contact with water and you will ensure the
proper care for the muzzle
.
Some Reviews from Our Customers:

1. Staffordshire Bull Terrier muzzle M41

Received the muzzle today.
WOW! Is it ever nice. I like the fact it gives my Daisy lots of room. The leather is so soft, light and supple. Daisy hates muzzles (don't blame her) and tries to remove as soon as I put it on. I was very surprised and pleased Daisy made no attempt to remove yours. She seemed very comfortable.
Thank you so much. I will be promoting your muzzles to our Pitty Co Op group.
All the best

From: Angie, Ontario, Canada

2. Staffordshire wire muzzle M9
Just wanted to thank you for the fast service you provided. It was extremely difficult to find a muzzle that fits my dog, and I didn't have time to have one specially made. Thanks to the details and measurements you provided on your site, I found one that fits. And it arrived in time for our trip to the vet. Thanks!

From: Debbie, USA
---