Staffie Harness
A unique collection of Staffie harnesses for any taste and wallet is available in our online dog shop! All the harnesses are designed with recommendations of professional dog trainers and vets. Our Stafford harnesses give you complete control over the dog during walking, obedience training, attack and protection work, weight pulling, other dog sports.
We also offer warming Stafford harnesses and rehabilitation Staffordshire Bull Terrier harnesses. If you want your Staffy to look noble you can add to Staffordshire Bull Terrier leather harness the options of luxury polish brass fittings. Choose EMS-Express shipping and don't wait the chosen Staffie harnesses for too long. If something is wrong with your purchase, tell us and we will find a way to fix a problem. We are open for dialog. See Shipping & Returns page for details.
Tasty Offer for Staffy Owners! Only today we give you a 10% discount for all the dog accessories aside from bite sleeves and bite suits. 7788 is a coupon code. Don't waste any moment while the discount coupon is in action! You can check the coupon availability here.
more info....
NEW ARRIVALS - Staffie Harness
Model: H6###1047 Nylon Dog Harness for Pulling
Staffordshire Terrier, English Staffy & Amstaff have become the most popular dog breeds in the United Kingdom. They are perfect companions and family dogs. Staffy is a very strong, sturdy build and active dog, many of them take part in various championships, dog competitions and also are trained for police, K9 and service work. That`s why Staffy needs a specific dog equipment of a high durability and everlasting quality to make a dog training effective and successful.

Click the picture to see the product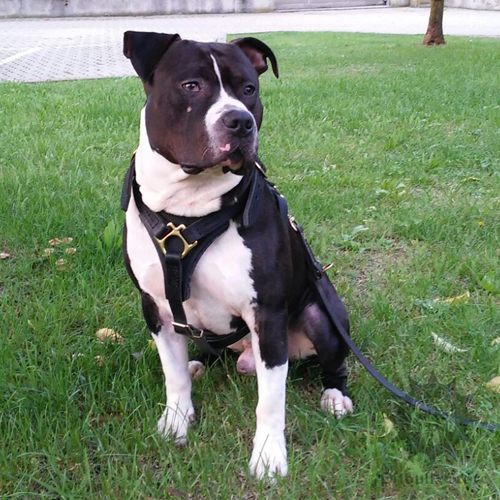 Staffy Harness for Your Dog's Comfort

Our company produces such a purpose-designed dog training equipment as Staffordshire harnesses. So here, in our online pet store you can see and choose the best Staffordshire Bull Terrier Harness for your vigorous pet. We can offer you Amstaff leather harnesses, nylon harnesses, padded harnesses for walking, training, tracking, pulling, agitation/protection, dog competitions/championships and other activities of your pet.

All our Staffy leather harnesses are padded and made of high-grade genuine leather. Nylon harnesses are made of a heavy-duty water-resistant material, so you can walk or train your Stafford in any weather! All metal fittings are are durable, rustproof and absolutely safe for Stafford`s health. When you see the silver coloured metal fittings on Staffie harnesses - they are made of nickel-plated steel or stainless steel. And when you see golden spikes, studs and metal buckles - they are made of brass.

See How to Measure Your Staffordshire for a Harness
You can also find in our pet supermarket leather and nylon harnesses suitable for pulling and tracking. Some Staffordshire Bull Terrier harnesses are the best for mantrailing and cani cross. We can give you the best reccomendation for any sport type harness and for any Staffie harness that you need for any purpose.

Choose a premium quality and cheap Staffy harness!
We also have a great database of Staffordshire Terrier breeders in British counties - you will find the alphabetical pages in the bottom of any webpage on the left website box. Here are the first Staffy breeders.
Staffie Harnesses Reviews from Our Customers:

1. Padded dog harness H10
HI GUY, RECEIVED HARNESSES LAST NIGHT VERY IMPRESSED WITH DELIVERY FANTASTIC! THE HARNESSES ARE FABULOUS ABSOLUTELY STUNNING AND THE FIT IS PERFECT I WILL DO MY VERY BEST TO GET SOME PHOTOS TAKEN ASAP ALL THE BEST.

From: JACKIE, USA


2. Royal dog harness H11
Hello Guy, I just unpacked Taz's harness and dog lead, i have gotta say, what absolute quality, so well put together and it just looks the total business, thank you, we have a couple of friends who were waiting to see what they were like before they order and i'll tell you now, they will be ordering as soon as they see these items, they'll be as chuffed as we are, i'm sure. So thanks again, we are immensely satisfied customers. Regards.

From: Kevin, UK
---