Photo Contest How My Dog Shows Its Emotions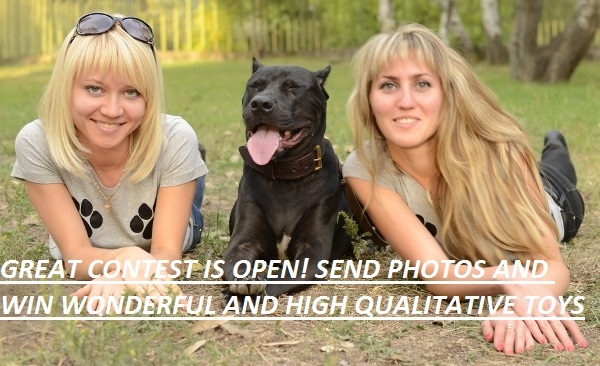 Dear Friends!
Pitbull-dog-breed-store-co.uk prolongs the Photo Contest How My Dog Shows Its Emotions. We inform that our contest will last until the 10th of November !
To take part in this competition you are to send the photos of your dogs which are showing their emotions: love, affection, joy, happiness, satisfaction, slyness etc.
Easy steps to win and get cool prizes:
1) Send us a photo of your dog to irina@pitbull-dog-breed-store.co.uk and give a few sentences for it with the name of your pet. If there is somebody else except of your dog at the photo, give their names too, please. Before sending the photo make sure that it is not too large to prevent their loss at the server. We do not want to lose any of your photos.
2) Wait until we post the photo at our official Facebook page here:
https://www.facebook.com/Staffordshire-and-Pitbull-Shop-429102223938141
. We will inform you about it to start cheer up and share with your friends to get as much 'Likes' as possible.
3) The competition finishes on the 10th of November. We will count the 'Likes'. 3 photos, that will get the greatest amount of 'Likes' till midnight 10.11.2015 win.
First three winners will get our presents:
SOLID RUBBER BALLS
and
A STARMARK FEEDING TOY
!
Take note!
More photos - more chances to win! But turn your attention, please, that each photo takes place in the competition separately and the 'Likes' for several photos of the same dog are not added together. But feel free to send one or several photos for the competition. And each of them has the right to win.
We will also appreciate the photos of your dogs with our products.
P.S. We will ship the prizes all over the world, wherever your dog is. The contest borders are unlimited.
Do not forget to share the great news with your friends!
OUR PRIZES:
| | |
| --- | --- |
| | |
| Win one of the treat dispensing toys by Starmark Academy and entertain your Staffordshire Bull Terrier or Pitbull for hours. | Let your Pitbull or Staffy play with joy! Solid rubber ball on rope is perfect for cheerful games and training of your dog! |
| | | | |
| --- | --- | --- | --- |
| FOLLOW US: | | | |
---